Maritime Domain Awareness
Maritime Domain Awareness (MDA) systems are wide area systems that monitor the maritime traffic within a large area typically this is a national system or some large area within the national maritime domain.
Data are collected from a range of sensors and systems that includes:
Terrestrial AIS base stations and AIS receivers (T-AIS)
Satellite AIS data feeds (S-AIS)
Various Vessel Traffic Systems within the area of interest
Coastal Radar systems covering areas of interest such as undersea cable protection systems or seaways of interest such as the Bosporus Straits in Turkey
In addition, data from other maritime systems including the IMO Long-Range Identification and Tracking (LRIT) and the national Fishing Vessel Monitoring Systems (VMS) can be integrated to provide a more comprehensive picture. Where a comprehensive MDA view is required, a range of other sensors can be included such as Meteorological and Hydrological sensors as well as Radio Direction Finder (RDF) systems.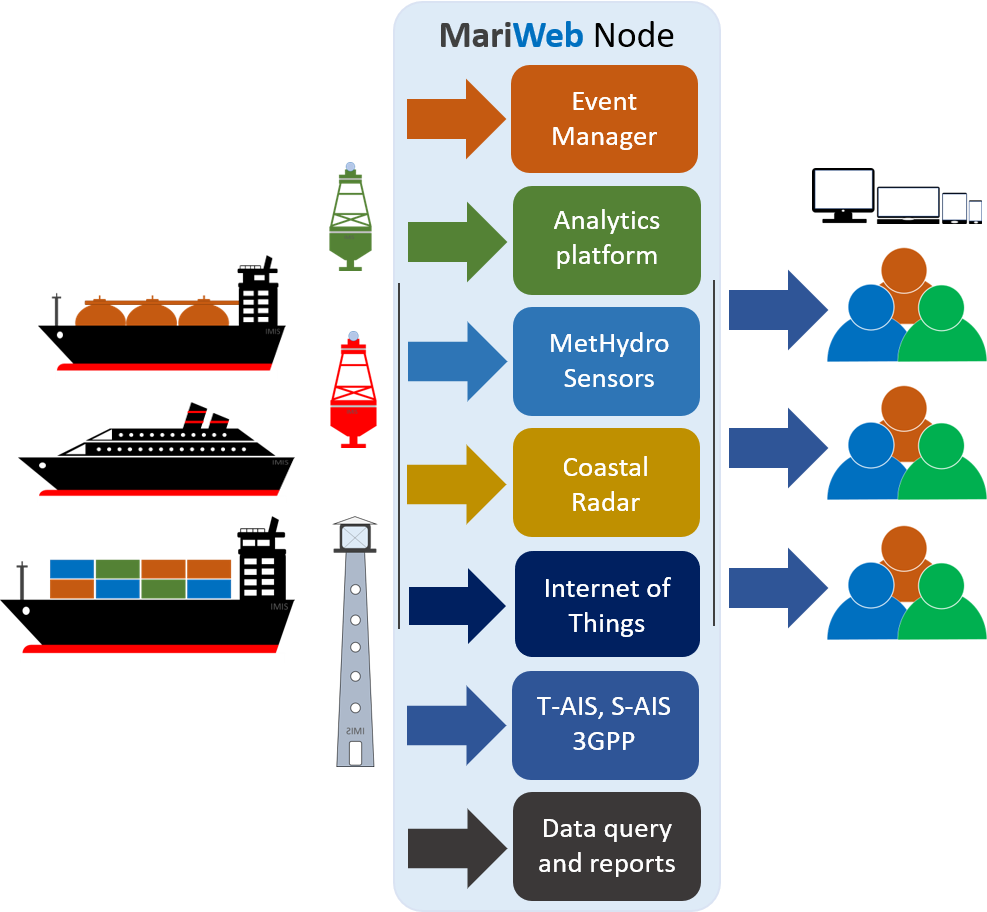 The outputs from the MDA systems include a maritime centric Common Operating Picture (COP) and a range of Machine to Machine (M2M) data feeds that feed processed AIS data to third party applications such as Geographic Information Systems (GIS) for more detailed and focused analytics.
The primary challenges for MDA systems include:
Decoding all available AIS data messages ensuring that all available information is available
Processing the data that is available from a wide range of sources some of which, like S-AIS, can be significant and be streamed with significant bursts of data
Ensuring that the data is accurate and safe to be processed and shared
Storing the received data in a storage environment that allows the data to be queried and the wanted data obtained as and when required
Sharing data to a wide range of users using navigational quality Electronic Chart Systems (ECS) and Machine to Machine (M2M) data feeds noting that when a maritime incident takes place, significant additional capacity is required for users viewing the ECS and data queries
Providing and supporting a complex system ensuring that the availability exceeds 99.9% and that a responsive 24/7 support system is in place
MariWeb, along with its high performance, flexible topology, wide range of user and technical support dashboards, is a world leading system to satisfy the needs of those that use Maritime Domain Awareness systems.